January 15, 2011
Further to Sneak Peek's first report October 2008, Paramount continues to develop a bio-pic feature based on the life of Robert Ripley, creator of newspaper strip "Ripley's Believe It Or Not", starring actor Jim Carrey as the eccentric cartoonist/explorer.
Travel was Ripley's lifelong obsession, visiting 198 countries, but feeling most at home in China, where he adopted local customs, often greeting guests in traditional Asian costume while presiding over elaborate feasts.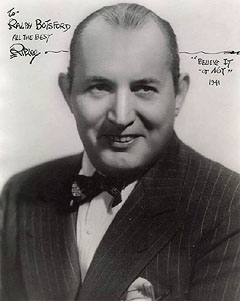 His many US houses were filled with 'odditorium' artifacts he brought back from his Marco Polo-like travels, including Chinese wallhangings, shrunken heads, totem poles from Alaska and giant bronze guardian statues from the Orient.



He became a self-made multi-millionaire through the syndication of his comic strip, dressing in bright colors and patterns, bat-wing ties and two-toned spat shoes, collecting cars but never learning to drive, and although he used complicated recording equipment for broadcasts, he was afraid of using a telephone for fear of being electrocuted.



A non-swimmer, he owned numerous boats including dug-out canoes and a Chinese sailing junk moored at B.I.O.N. Island, his estate in Mamaroneck, New York.



The 1930's and 40's were regarded as the 'Golden Age of Ripley', with "Believe It or Not!" becoming the catchphrase of the day and small towns across the US selling out halls and vaudeville theaters to hear his lectures and see his films.



Self-educated, Ripley received honorary titles and degrees, but died of a heart attack in 1949, at the age of 56, shortly after the thirteenth telecast of his TV series.